Our global strength - we are part of M&G plc
Based in Cape Town, M&G Investments Southern Africa (previously Prudential Investment Managers) is part of the wider M&G plc group, one of Europe's largest active investment managers. M&G plc has £348.9 billion in assets under management (as at 30 June 2022) and over five million clients, and operates in 28 markets around the world.
In South Africa we use M&G plc's global reach and expertise in managing our clients' portfolios and in ensuring international best practice. We continue to manage assets on behalf of Prudential plc clients worldwide.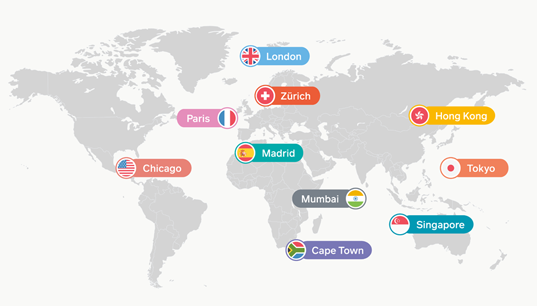 A coordinated global network
M&G Investments Southern Africa works together with experts across M&G plc's worldwide operations to offer a consistent investment philosophy and process. Aided by the latest technology, our investment professionals around the world work closely together, sharing ideas, information and research. This coordinated approach provides a combination of local service and international expertise for our clients.
Headquartered in London, M&G plc offers a wide range of high-quality investment solutions to companies and individuals. It features credit ratings of "A+" from Fitch and "A2" from Moody's, and is based in the world's major financial centres with 20 offices serving 28 countries.
Ownership
We are 50.12% owned (indirectly) by M&G plc. Another 28.08% is held by the M&G Staff Investment Company and 21.80% by Thesele Group, our black empowerment partner. This timeline provides a history of our ownership since our inception in Cape Town in 1994.
M&G plc is the parent company of M&G Investments, which was previously part of Prudential plc. M&G Investments was established in 1931 and has grown into one of Europe's largest active asset managers.
The total black ownership of our business has increased steadily over recent years, mainly due to increased black staff ownership, and is currently approximately 31.4%. If the strategic holding by M&G plc is excluded, 63% of our South Africa-resident shareholder base is currently black-owned, collectively by Thesele Group and M&G Investments' black staff.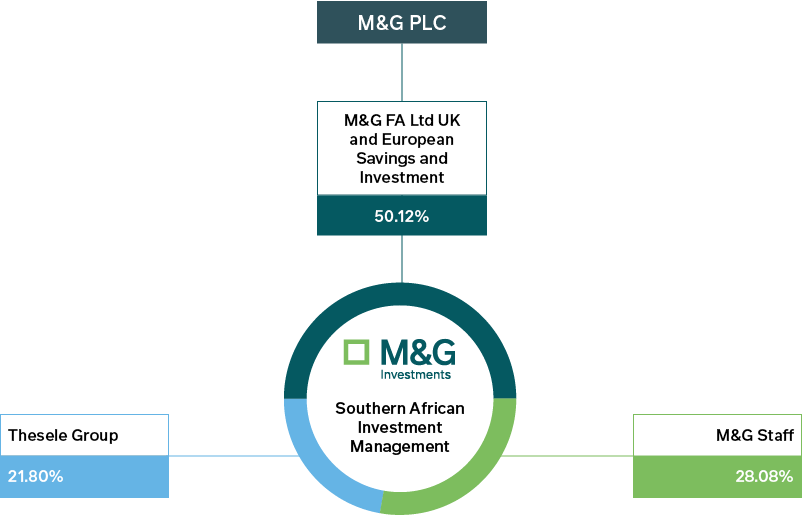 Our integration with M&G Investments offers our clients significant benefits
Successful investing these days requires global expertise with a global perspective. This is because return opportunities come from myriad sources and opportunities that can best be identified by teams of experts who combine their knowledge to deliver outperformance for clients. Therefore having M&G plc's global scale and presence improves our ability to help our clients achieve their investment objectives.
Working closely with M&G plc gives our clients access to global best investment ideas and solutions that have proven to be successful. This includes broad global investment themes that South Africans may not have previously been able to access, and cutting-edge, technology-driven solutions. 
Examples are areas as diverse as:
Artificial Intelligence (AI) or machine-learning-driven funds that process large quantities of data much more efficiently and expediently than analysts could do on their own;
Different types of sustainability- and impact-focused funds;
Investment funds targeting global listed and unlisted infrastructure and credit opportunities, etc.
Working with M&G plc gives us larger scale to have make a more meaningful impact through ESG investing, where we can influence company policies to a greater extent. We collaborate with ESG specialist teams within M&G plc in our engagements with large carbon-emitters, towards a transition to cleaner energy solutions.
Working within the M&G Investment group offers excellent opportunities for international knowledge exchange for our colleagues who are able to live in Cape Town, but can also work closely alongside colleagues in London, Chicago, Paris or Singapore.
The companies listed on the JSE increasingly derive their earnings globally. In addition, South Africans have greater scope to invest offshore due to the higher offshore allowances permitted by the SARB. We are able to provide a comprehensive (albeit focused) local and offshore range of investment capabilities for our clients.
Our alignment with M&G plc's global best practice standards allows us to benchmark ourselves against the best businesses in the world in areas such as client service, technology and governance practices, which we expect will be beneficial to our clients.
As a subsidiary of a UK-based financial services firm, we are indirectly subject to the relevant regulatory oversight under the UK's Financial Conduct Authority (FCA), in addition to being directly regulated by South Africa's FSCA and Prudential Authority. Our controls frameworks, internal audit, compliance and risk functions therefore must meet global best practice standards
We can use M&G plc's global scale and the resulting opportunities for implementing lower-cost administrative solutions and best-of-breed technologies that should help reduce costs for our clients.